Sightseeing places
Kitakami Tenshochi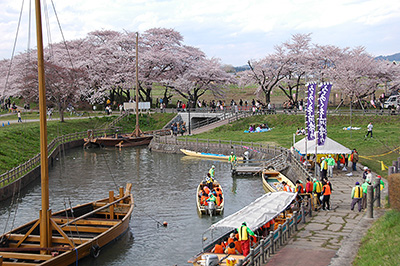 Kitakami Tenshochi runs along the shore of the softly flowing Kitakami River. The area is well known as one of the best places for viewing cherry blossoms in Tohoku. Tenshochi Park is officially listed in the "Top 100 Japanese cherry blossom sites", and "Top 3 cherry blossom sites in the Tohoku region" A path lined with cherry blossom trees begins at Sango-Bashi Bridge and continues for 2km. In Tenshochi, there is said to be 10,000 cherry blossom trees of more than 150 types. Additionally, the area of the Tenshochi Park is about 293 ha (725acres) and there are 10,000 cherry blossom trees of 150 kinds that can be enjoyed in the park. "Somei Yoshino" cherry blossom trees start to bloom from mid-April and "Kasumi Zakura" trees bloom until early May.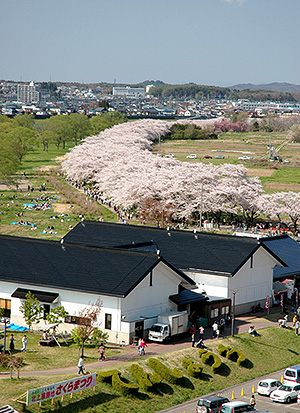 This park is called Tenshochi because of the amazing view from a small hill called Jingaoka. In Japanese, "Tenshochi" is a combination of the words for "view" and "picturesque scenery."
Blessed with abundant trees and beautiful scenery, a stroll in Tenshochi is enjoyable throughout the year. In the spring, there are cherry blossoms and azaleas. In the fall, the changing colors of the leaves are stunning. And in the winter, swans come flying over the Kitakami River.
Geto Kogen Hot Springs Area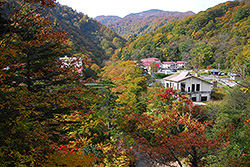 The Geto Kogen Hot Springs Area is made of up six beautiful hot springs surrounded by the lush natural environment of Geto Kogen with six traditional Japanese Inns. The six hot springs are "Geto Hot Springs," "Irihata Hot Springs," "Semi Hot Springs," "Geto Kogen Hot Springs," "Seminezaka Hot Springs," and "Mizukami Hot Springs."
The History of Geto Hot Springs
Geto Hot Springs is on the west side of Mt. Komagatake, and was long ago called "Takenoyu" (hot water of the hill). While the true origin of the word "Geto" is not clear, there are a few theories. One is that it comes from the Ainu word "Gutto Oh" which means a place near a cliff. Others say "Geto" (the Chinese characters are for summer and oil) is called thus because the heavy snow prevented anyone from visiting the springs during the winter, so it was only accessible in the summer, and became called "summer hot water." Then the rich slowly flowing water later appeared to visitors as looking similar to oil, which finally changed it to its current form of "Geto" as "summer oil."
There is a record regarding the discovery of Geto from 856, when Jikaku Daishi, the monk who built Mantokuji Temple on Mt. Kyozuka found the hot springs. There are many legends regarding Jikaku Daishi in the Geto Mountains in locations including "Mt. Komagatake," "500 disciples of Bhaddha", "Hotokeishi", and "Otsubo no Matsu". On the other hand, there is another legend that in 1375 a defeated soldier of the Heike family called Matagi Shirozaimon wounded and chased a large white monkey. He is said to have overtaken the monkey at the hot springs, and seen it resting and healing itself in the waters.
Ezuriko Kofun gun (Old Tombs) / Yusui gun (Springs)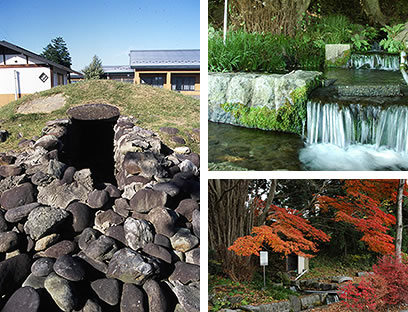 There are signs that people have been living in the area where the Kitakami and Waga Rivers converge since the Paleolithic era. There are ancient burial mounds scattered about the north bank of the Waga River that date back to the period from the late 7th Century to the early 8th century. There are around 120 of these round mounds measuring from 6 to 15 meters in diameter. Items including comma-shaped beads, multi-faceted gems, blades, and horse tack have been excavated. Some extremely rare items have been found including gold plated glass beads, which led to conjecture of trade with mainland China. You can see some of these articles in the Kitakami City Museum. Ezuriko Kofun-Gun was designated as a National Historic Site in 1979.
The Ezuriko area where the burial mounds are located has been called "Hagi-no-sho" (black clover manor), Tarui village" since long ago. There are springs bubbling up throughout the village. There are 44 points where the springs bubble up to the surface, giving the abundant blessings of nature.
Kunimisan Haiji, Temple Ruins
This mountain temple flourished during the mid-Heian Era, more than 1,000 years ago. Ruins of the temple and pagoda still remain. According to legend, it was a huge temple complex with more than 700 temple structures and 36 monk's quarters. The Kunimisan Haiji temple ruins appear to have been a preeminent temple in the Kitakami Basin more than 200 years before Hiraizumi came into prosperity.
Michinoku Folklore Village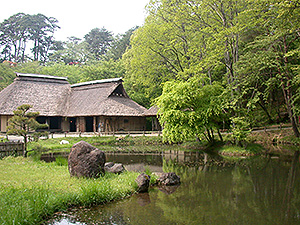 Michinoku Folklore Village, which is inside the Tenshochi Park, is the largest outdoor museum in the Tohoku region. Old houses and historical buildings have been restored and moved there. When entering, you will feel like a time traveler, with everything from pit dwellings to samurai residences, merchant houses, and L-shaped old farmhouses. Continuing down the path, thatched roofed houses appear, bringing back the images of past eras and people. Don't miss the "Hankyozuka" mounds, which were built in each of the Nanbu and Date Clans, as the stream marks the boundary between them.
Kitakami City Museum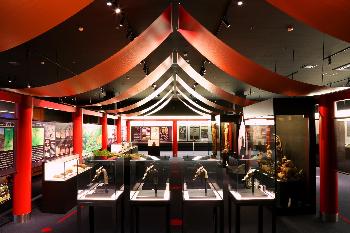 The Kitakami City Museum opened its doors in 1973 to display the rich nature and culture of the Kitakami Valley. In 2016, the museum reopened and divided some of its exhibits between the main museum and the branch museum in the Waga area.
You can see the historical exhibition at the main museum, located next to the Michinoku Folklore Village near Tenshochi Park, which includes important Japanese cultural properties such as bronze, dragon-shaped ornaments created during the Heian Period known as "Do-Ryu-To".
The Waga branch museum has three main categories: an overview of Kitakami's cultural history, a display of the natural history of Kitakami, and finally, an exhibit honoring the achievements of people who contributed to the development of Kitakami City. Various kinds of stuffed mammals, birds, insects and aquatic life are sure to pique the interest of children with curiosity about the world around them.
At both our main and branch museums, we hold special feature exhibitions several times throughout the year. Take your time and enjoy all of the displays at the Kitakami City Museum.
The Museum of Contemporary Japanese Poetry, Tanka, and Haiku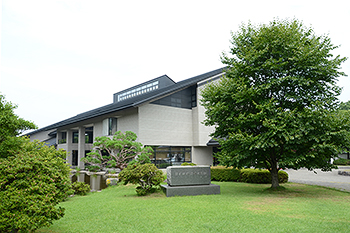 There are more than a million texts stored here, with collections of poetry, tanka poem anthologies, biographies, and research papers collected on a national scale. There are also Dojinshi (fanzines) and manuscripts that visitors can browse. In 2002, the Inoue Yasushi Memorial Hall was opened.
Oni no Yakata (Oni Museum)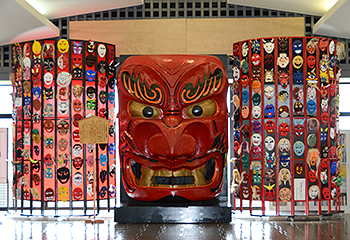 In the Oni Museum you will find all sorts of demons, from the frightening to the amusing materials relating to demons from all over Japan and even from abroad are gathered and exhibited here. Once you cross the Demon Gate protected by the "Tsugaru Onikko" Demon, you find yourself in the twilight space when demons appear. Continue further to see an assembly of demons from all over Japan, Nepal, India, and Mexico.
Geto Kogen Ski Resort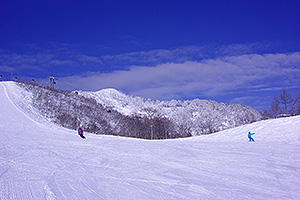 Including the evening Gondola in operation, there are 14 courses, so everyone from beginners to advanced skiers will be able to enjoy skiing here. The best thing about Geto Ski Resort is the high quality snow and some of the heaviest snowfall in all of Honshu Island. Because it is located near the center of the snowy Ou Mountains, it is rare for the courses to freeze into ice, allowing for excellent conditions any time. Snowboards are also allowed on all the courses. You can enjoy a long season until Golden Week at Geto Ski Resort.
Toneyama Kojin Memorial Art Museum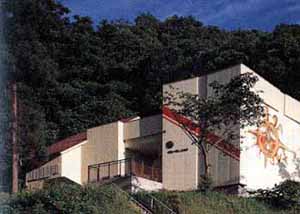 Toneyama Kojin was born in 1921 in Ibaraki Prefecture.  He was an artist that left behind many impassioned works with Mexican motifs.  He was fascinated by performance folk arts in Michinoku, and opened a studio in 1975. He exhibited many dynamic works depicting Shishi Odori and Onikembai. After his death, the studio was converted into a memorial art museum and today exhibits many works, mostly with motifs of performance folk art.
Sato Hachiro Memorial Museum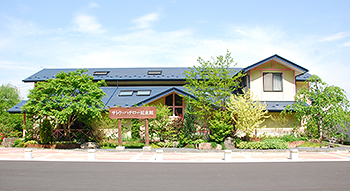 Sato Hachiro was born in Tokyo in 1903. He won the Minister of Education Award for his collection of children's stories, "Shikarare Bozu." His father was from Hirosaki, and his mother was from Sendai, so he said, "Tohoku is in my blood, so writing poems about rural life comes naturally to me." In addition to his children's songs, "Ureshii Hina Matsuri" and "Kawaii Kakurenbo," and his popular song "Ringo no Uta", he is said to have written about 20,000 works during his lifetime. We can see his warm personality and free lifestyle overflowing through the world of his writings, recordings, and other articles left behind.